Dr. Liz Evans MA(Cantab), MBBS(Hons), DRCOG
Practised as a doctor for a few years (GP Registrar) then deregistered and moved into complementary medicine. For last 12 years have had a part-time private practice seeing patients, using a holistic nutritional and energy medicine approach.
Co-founder and director of the UK Medical Freedom Alliance – set up in October 2020. We are a group of healthcare professionals, scientists and lawyers, campaigning for people's rights to medical freedom, informed consent and bodily autonomy to be upheld in all circumstances. Front-facing member of HART since inception. Member of Children's Covid Vaccine Advisory Council (CCVAC) led by Dr Ros Jones. CCVAC have written numerous letters since May 2021 (to MHRA, JCVI and now the Prime Minister) raising serious concerns about administration of Covid vaccines to healthy children.
---
Pr. Alexandra Henrion-Caude
Professor Caude is Director of Research at the National Institute of Health of France (INSERM) and founder of Simplissima, an International Research Institute. Internationally renowned with 150 publications, her research has focused for over 20 years on how environmental cues are translated into genetic information. Recently, her interest has expanded to consider the huge contribution of non-coding RNA to the regulatory circuitry, and in particular to identify the variations that could influence genetic diseases.
Dr Caude's first mentor was Professor Sir Alec Jeffreys, with whom she learned the techniques of DNA fingerprinting. She obtained her PhD in Genetics in 1999 from the University of Paris VII, under the supervision of Professor Axel Kahn. She did her postdoctorate at Harvard Medical School, in Joslin Diabetes Center, and was tenured in 1998 from Inserm, where she is currently appointed as Director of Research. She founded, with Professor Annick Clement, the first research unit in Pediatric Pneumology at Trousseau Hospital in Paris. She then created a research group on genetic diseases in children in Professor Arnold Munnich's laboratory at Necker Hospital in Paris, and was director of GenAtlas, a public scientific website.
She received the Prize of the Eisenhower Fellowship in 2013. She featured on "The Science for you to solve" along with 4 Nobel Prizes in Seoul, Korea, and was invited for presenting her work on non-coding RNA at Keystone Symposia and at the Royal Society. She has three patents including the US patent on mitomiRs for adjusting mitochondrial genome, and has had a partnership with Miltenyi Biotec for R&D on mitochondrial preparation.
---
Philipp Kruse
Philipp Kruse is a Swiss Attorney. After a career in commercial and constitutional law, he dedicated his life to challenge the path Switzerland is moving along with many other nations. He has run several cases in relation to regulations impacting children, constitutional controversies and is leading several initiatives supporting activists.
---
John Stone
John Stone is an autism parent, vaccine safety campaigner and has been British and European Editor of AgeofAutism.com since 2010. John has focussed on the misrepresentation of events and of science surrounding the autism crisis and vaccines. He has contributed extensively to debate over vaccine safety and industry ethics in Britain and America for two decades.
---
Vera Sharav, Author and Founder of the Alliance for Human Research Protection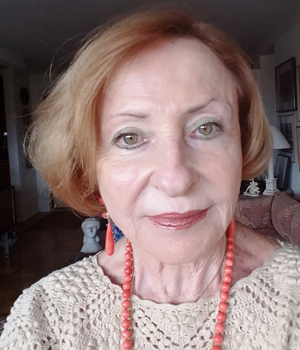 A public advocate for human rights is the founder and president of the Alliance for Human Research Protection (AHRP) which serves as an information resource and public interest watchdog organization whose goal is to unlock the walls of secrecy in biomedical research and bring accountability to that endeavor. AHRP Infomails have a wide following: they are read by physicians and scientists, public health officials, journalists, lawyers, and patient advocacy organizations.
Her advocacy achievements include: suspension of Environmental Protection Agency (EPA) pesticide experiment (CHEERS) on children; complaint led to two federal investigations on the use of children in foster care as guinea pigs in experimental AIDS drug and vaccine trials; suspension of smallpox vaccine on children; suspension of "violence prediction" experiment that exposed 6–11 year old NYC boys of color to fenfluramine ; opened a public debate about the ethics of relapse-inducing experiments in schizophrenia patients. Organized families and victims of unethical research to join her in testifying before the National Bioethics Advisory Committee (NBAC) — re: unethical experimentation on mentally disabled psychiatric patients; those testimonies led to a prize-winning series in the Boston Globe, "Doing Harm: Research on the Mentally Ill" — ultimately resulting in the shutdown of 29 clinical trials at the National Institute of Mental Health (1999).
Mrs. Sharav served on the Children's Workgroup of the National Human Research Protection Advisory Committee where she was the sole dissenter objecting to expanded use of children in high risk medical experiments. She has testified before public policy advisory panels including, the Institute of Medicine — against human pesticide experiments; against prison drug research; numerous FDA hearings, against misuse of psychotropic drugs for children.
She has been an invited presenter at various professional and academic forums: World Federation of Science Journalists, London; National Academy of Sciences Policy Fellow program and National Public Health Association re: screening for mental illness; Consumers Institute for Medicines and Health, Stockholm — re: America's overmedicated children; Columbia University; NY Hospital, Cornell; U.S. military medical ethics forum; University of Texas.
---
Dr. Nicole Delépine
Doctorate in medicine, paediatrician and oncologist, Nicole Delepine is married to Doctor Gérard Delépine and mother of 2 children. She directed the Adolescent and Young Adult Cancer Unit at the Raymond Poincaré Hospital in Garches (92) until its closure. A full-time hospital doctor, Nicole Delépine has been fighting for 20 years to improve the care of cancer patients. She is the author of about a hundred original articles on the subject and has presented an average of 15 papers a year in recent years, 2/3 of which are presented at international conferences. The results of her work have been confirmed abroad and inspire international therapeutic protocols. Nicole Delépine's reputation is international and considerable in the field of bone and soft tissue tumours.
Professionally, Nicole Delépine has constantly fought for the democratisation of the hospital and to make sure the patient is at the centre of the concerns of hospital doctors and the administration. Nicole Delépine's disturbing positions have earned her the enmity of some of her peers who recently decided to close her department, which was one of the most active in the hospital. It is only thanks to the action of parents' associations such as A.M.E.T.I.S.T., repeated interventions by elected representatives of the Paris region and reports by numerous journalists that the solution of transferring to the Raymond Poincaré hospital in Garches (92) was able to be wrested from the AP-HP administration. Member of the advisory board of Alliance for Human Research Protection.
---
Dr. Gérard Delépine
Oncologist, Orthopedic Surgeon, and Statistician at the Raymond Poincaré Hospital in Paris. Since the 1980s, Dr. Gérard Delépine developed innovative surgical methods that address bone tumors and soft tissues. The independent and creative team of doctors in the Pediatric Oncology Unit (POU) has attained an international reputation for combining advanced individualized chemotherapy and conservative surgery. Over the decades, a supportive, activist parents' association, interventions by politicians, numerous reports by journalists, and the support of many French and foreign doctors enabled the POU to resist pharmaceutical-influenced, protocol-dictated cancer treatment practices. Member of the advisory board of Alliance for Human Research Protection.
The French husband and wife team of Nicole and Gérard have been battling the French health bureaucracy for 30 years on behalf of cancer patients and on behalf of treating physicians who have been sidelined by government bureaucratic cancer treatment protocols influenced by pharmaceutical company interests. Drs. Delépine are fighting to improve the treatment options and the care of patients with cancer; taking into account not only the response of the tumor, but also the body's reaction to the drugs, and prescribing individualized dose adjustments of chemotherapies as needed.
Drs. Delépine are outspoken critics of the state-dictated medical "tyranny" in France; where Regional Health Agencies dictate cancer treatment protocols that are formulated to inflate profits for the cancer treatment industry; protocols and screening campaigns that are shown to cause patients harm. For example, they cite the 25-Year Canadian follow-up study of breast cancer mortality published in the BMJ. The study demonstrates that breast screening did not reduce mortality rates – as widely claimed – instead, it resulted in over-diagnosing breast cancer, resulting in unnecessary surgery.
The most recent research focus area in cancer for the doctors Delépine, is cervical cancer and its screening and so-called preventive vaccine.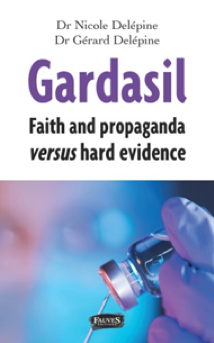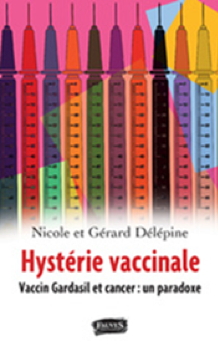 In Hystérie Vaccinale (Vaccine Hysteria) (2018) they explain that cervical cancer is rare, and in upper-income countries where PAP smears are used to routinely screen for cervical cancer, it is 80% preventable. In the U.S. the death rate from cervical cancer is less than 1% — 0.7%. There is no cervical cancer emergency.
In Gardasil: Faith and Propaganda versus Hard Evidence (2019) the doctors Delépine report the results of their analysis of the global evidence of cervical cancer as documented in government registries of Australia, Great Britain, Norway, Sweden, and France. They analyzed the data prior to, and following vaccination with the human papilloma virus (HPV) vaccine, Gardasil, manufactured by GlaxoSmithKline. Gardasil has been widely, aggressively promoted as a cancer prevention vaccine. Doctor Nicole and Gérard Delépine compared the rate of cervical cancer during the pre-vaccination period – from 1989 to 2007 – and the rate of cervical cancer since vaccination with Gardasil. They reported their evidence-based seriously troubling findings: during the PAP smear screening era (1989-2007), the incidence of cervical cancer declined by 50 %. Since 2007, following Gardasil's marketing authorization "a trend reversal" was observed in all countries with high immunization coverage (Australia, Great Britain, Norway, Sweden). Their analysis of the government databases reveals a paradoxical increase in the cancer incidence appearing 3 to 5 years following the vaccination campaign. This increase affects almost exclusively the most vaccinated age groups.
---
Dr. Violaine Guérin
After a career at the Necker Children's Hospital (Paris), her passion for immunology led her to take a specific interest in the mechanisms of autoimmunity. Her fundamental and clinical research on autoimmune dysthyroidism led her to join the prestigious laboratory of Professors Deborah Doniach and Ivan Roitt in London, who had discovered anti-thyroid autoantibodies in 1956. In spite of her taste for research and national and international publications, the decrease in the quality of care and the restrictions of means at the Assistance Publique led her to work for ten years as R&D Project Manager, Medical Director and then General Manager in industry before setting up her own practice. Her interest in the human sciences and her professional experience led her to take a different look at medicine. It was while offering patients the opportunity to make sense of their illness that she realised the all too frequent links with sexual violence, most often experienced in childhood. It therefore seemed essential to her to communicate on this subject, which was too often ignored, which is why she took the time to write the book "Stop sexual violence! Let's listen to these bodies that speak! "and to think about a care protocol that would lead patients to repair all the damage caused by the violence they had suffered. Aware that everything would only make sense if the scourge of sexual violence could be eradicated, she thought about a public health strategy. This led to the creation of the association Stop aux Violences Sexuelles, of which she will be president until 2020. In October 2014 she published "How to heal after sexual violence? "a book that explains the full extent of the problem of sexual violence and proposes a care pathway that aims to quickly get victims out of their deep suffering. To this end, she created the association Active Ton Potentiel. In October 2016 she detailed the care protocol she had set up for perpetrators of sexual violence in the book "Pédophiles and other perpetrators of sexual aggression – Why? Why? How? How to care? ". In 2020, she was one of the French doctors who created the collective "Laissons les médecins prescrire" (Let the doctors prescribe) and informed the population about the health reality in the field.
---